Dr. Daniela Saggioro, PhD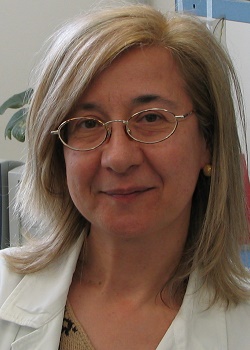 During her professional career, Daniela Saggioro has been involved in research on murine and human oncogenic retroviruses, with emphasis on understanding the replication strategy and pathogenesis of human T-cell leukemia virus 1 (HTLV-1). Her research efforts addressed the control of HTLV-1 expression by methylation (Cancer Res, 1990), and the mechanisms involved in transformation of cells by the viral protein Tax (Proc Natl Acad Sci, 2004), and in particular to the role of Tax in apoptosis Apoptosis, 2009). Since 2008, she moved to pharmacogenetic studies devoted to the discovery of constitutive genetic variants involved in chemotherapeutic drugs toxicity (Cancer Chemot Pharmacol, 2013). Recently, she moved to genetic studies in esophageal cancer with particular interest to the discovery of prognostic and predictive biomarkers (Pharmacogenet Genomics, 2013; Pharmacogenomics J, 2015). At present she is conducting studies on circulating cell free DNA (cfDNA) in plasma of Barrett's esophagus (BE) and esophageal cancer patients to discover markers that will allow to: i) stratify BE patients at risk of neoplastic progression (Transl Res, 2016), and ii) follow tumor behavior in esophageal cancer patients.
Immunology and Molecular Oncology Unit
Department of Clinical and Experimental Oncology
Research activity
Circulating cell free DNA (CfDNA) as a new tool to monitor patients with Barrett's esophagus (BE) or esophageal cancer (EC). The application of cfDNA and NGS
Additional diagnostic strategies with predictive/prognostic potential are needed to follow Barrett's esophagus and esophageal cancer progression. The combined use of cfDNA and NGS will permit a more accurate monitoring of these patients with the advantage of a mini-invasiveness.
Research topic
Search of predictive/prognostic biomarkers in esophageal cancer and its precursor condition.
Reasearch activities
Although the new therapeutic strategies have increased the survival of patients with adenocarcinoma esophageal cancer (EAC), response to therapy remains unpredictable with a significant inter-individual variability, and easily detectable prognostic indicators, that allow to monitor the duration of the response or to predict the relapse are not available. Most EACs arise from metaplastic Barrett's esophagus (BE), through metaplasia-low grade dysplasia (LGD)-high grade dysplasia (HGD) axis. This observation has led to the development of endoscopic surveillance protocols devoted to the identification of patients at risk for neoplastic progression. However, this approach is highly controversial because of inherent difficulties in the accurate identification of dysplastic lesions. The difficulties involved in endoscopic surveillance for BE include sampling bias inherent in random-biopsies protocols, and the subjective and time-consuming histopathological diagnosis of dysplasia. Hence, for both BE and EAC, additional diagnostic tools that can give a support to the current surveillance practices are needed.
cfDNA is becoming an important tool for noninvasive diagnosis and monitoring tumor dynamics. The detection and clinical use of cfDNA in oncology have long remained challenging due to the mixture between tumor and normal cfDNA, with the ratio being highly unfavorable for the tumor-derived free DNA. However, new technological advances such as droplet digital-polymerase chain reaction (ddPCR) and next generation sequencing (NGS) enable, to day, a better detection of circulating tumor free DNA, paving the way to a clinical use of it.
We have designed a targeted NGS panel focused on EAC and BE genetics, and optimized for cfDNA analysis. We intend to employ this library to monitor samples from:
BE patients, to verify whether their cfDNA can serve to monitor the risk of neoplastic progression;
EAC patients, to follow tumor behavior.
NGS technology will increase both the specificity and the sensibility of genetic variants detection.
Furthermore, the specific application of NGS to cfDNA will permit a more adequate monitoring of both BE patients at risk of neoplastic progression and of EAC patients during their treatment regimen, with the advantage of a mini-invasiveness for the patients.
Team members
Enrica Rumiato
Elisa Boldrin
Martina Ricci
Selected references
Boldrin E, Rumiato E, Fassan M, Balsamo L, Realdon S, Battaglia G, Rugge M, Amadori A, Saggioro D. Liquid biopsy as a novel tool to monitor the carcinogenesis of Barrett's esophagus. Transl Res. 176:127-31. (2016)
Boldrin E, Rumiato E, Fassan M, Cappellesso R, Rugge M, Chiarion-Sileni V, Ruol A, Alfieri R, Cagol M, Castoro C, Amadori A, Saggioro D. Genetic features of metachronous esophageal cancer developed in Hodgkin's lymphoma or breast cancer long-term survivors: an exploratory study. PloS One 10:e0121467 (2015)
Rumiato E, Cavallin F, Boldrin E, Cagol M, Alfieri R, Basso D, Castoro C, Ancona E, Amadori A, Ruol A, Saggioro D. ERCC1 C8092A (rs3212986) polymorphism as a predictive marker in esophageal cancer patients treated with cisplatin/5-FU-based neoadjuvant therapy. Pharmacogenet Genomics. 23:597-604 (2013)